« December 2005 | Main | February 2006 »
Some people are eager to start using Quiz Edition, even though it is still in beta. Here's the link to pre-order. This is to purchase a license to use Quiz Edition with the beta and the full release. Before ordering, it's worth noting that the terms for Quiz Edition are different to Publisher Edition. It comes with bug fixes until the next version, rather than upgrade protection. Also, content published will contain the same Quesiton Writer loader and logo on the report page as in the trial version.
Academic users can use the discount code 'ACADEME' to purchase an academic license - generally accredited education institutions, staff, faculty, students, educational administrative offices, public libraries, public museums are eligible. If there is any confusion - we'll apply the same eligibilty rules as Microsoft. The academic institution name will appear on the license and on reports. Quiz Edition is also available to non-profit organizations free of cost.
Posted by Alexander on January 21, 2006 | Quiz Edition Pre-Order Link | Comments (0) | TrackBack
I've just uploaded a new Quiz Edition install with some fixes. Most of the problems so far have been localization issues, with Question Writer having problems with Spanish / Korean / Ukranian systems. The showstopper was that the compile box was appearing, but not doing any compiling. However, that should be ironed out now.
Some questions also as to the differences between Quiz Edition and Publisher Edition. Quiz Edition is the easy-to-use product, no learning curve, anyone can use it, and it creates simple quizzes. Publisher Edition is flexible and powerful, there is a lot to learn, it's aimed more at e-learning developers, but it can produce virtually any kind of question, test and assessment.
Posted by Alexander on January 19, 2006 | Quiz Edition Fixes | Comments (0) | TrackBack
Question Writer 2.0 is almost ready. New with 2.0 is the Quiz Edition. Quiz Edition gives access to the powerful Flaunt compiler (think Flex for assessments) with virtually no learning curve. Quiz Edition allows the user to pump out quizzes in minutes, with full feedback and reports that can be e-mailed, printed or sent via SCORM. No technical knowledge required.
Here's a short quiz about Italy, it uses the 'soft focus' theme and has the report and feedback at the end. With two clicks, it can be turned into this, with the 'Perceptions' theme and wtih feedback after each question. Check out the image zooming and try printing out your report. (This quiz took me 12 leisurely minutes to enter into Quiz Edition.)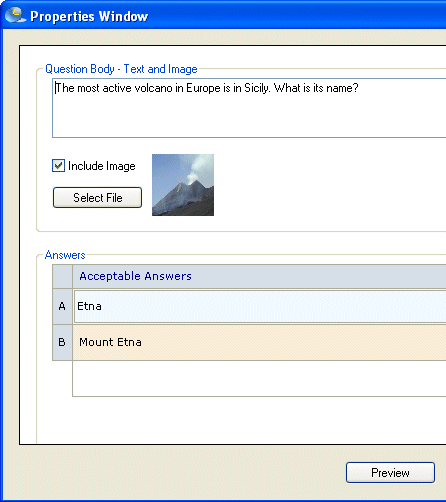 If you need results back from your quiz, there will be a results to email service available for free. With each quiz, you can specify an e-mail address, and at the end of the quiz, if the user has internet access, it will send the results, via our website, to your e-mail address. No server setup required. This will be available next week.
Quiz Edition will have a price of $420, with academic pricing of $175. However, right now, I really need some volunteers to test it, and to sweeten the deal, volunteer beta testers will get a 90% reduction on the price of a single license, so it'll come in at only $42 or $17.50. To qualify, you'll need to
1) Download Question Writer 2.0 - Quiz Edition Trial Beta.
2) Create a Quiz, with at least 10 questions, with at least one question of each type. The quiz should have a fairly narrow topic, and be credible as a piece of content that someone might want to use Question Writer to create.
3) Report any bugs you encounter on the Question Writer forum.
4) Email your completed quiz source (it may be published as an example on our website)
5) Complete a short survey on your experience.
The length of this offer will depend on the response, it might run for a day or a week or a month, when we've got enough responses, I'll close it, probably without much notice. (Offer is limited to one per school/univesity/company/institution.)
Offer is now CLOSED
Update 12/02/06: This offer ends Friday 17th February.
Posted by Alexander on January 11, 2006 | 90% Discount for Beta Testers | Comments (9) | TrackBack
Question Writer has been reviewed twice over the Christmas period. One is a very positive review from Julie Smyth of Cyber Aspect Publishing. The other is more mixed, but overall is another positive review in PC Pro by Kevin Partner. I'm really glad to see Question Writer reviewed as it's a product that stands on its merits rather than on a large marketing budget. And for me, and I suspect most people, reading reviews is important research when purchasing high value software.

Update: Tucows just accepted Question Writer into their index, awarding it 38/57 - that's 4 cows, and only one point away from a 5 cows rating (39 would have done it. Doh!)
Posted by Alexander on January 03, 2006 | Question Writer Reviews | Comments (0) | TrackBack