« February 2006 | Main | April 2006 »
I picked up a Playstation Portable the other day in anticipation of the Flash 6 update and to use as a mobile web browser. The PSP was designed for games but I'm a PC gamer, and the Flash update isn't out yet, so I'm considering it here for use as a mobile web browser.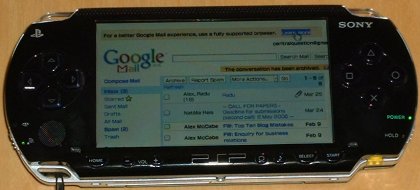 First off, I was stunned by the ability of the PSP to render websites in much the same way as a desktop browser. I thought I'd be using Gmail's mobile interface for example, but I'm using the ordinary interface - because it does such a good job of rendering HTML.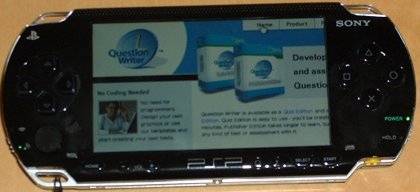 Even with nested tables and complex layouts, it does very well. Any blurriness in these images is down to my lack of photographic skills - the text and images are sharp - it's easy to read from, even with small text that fills the whole screen.
There's some Javascript support - but as soon as a page tries to change its own elements (to repopulate a drop down list for example) - it runs into problems. I tried checking an airfare on Travel Spy - I chose the destination country, the webpage tried to update a drop-down list with the available locations and this caused the browser to crash. I can live without Javascript though - it's not integral to many of the most usable websites. Also lack of Ajax on the PSP may be an opportunity for Flash developers to strut their interactive stuff.
I had hoped to use the PSP to respond to e-mail and support forum queries on the move. However it's clear to me now that it is of no use for this purpose. The text entry interface is horrendously bad. There's a good summary in the comments of this blog entry -
The PSP's on-screen keyboard is the worst implemention of an on-screen keyboard ever. It blends the disadvantages of a plus pad with the disadvantages of a phone, leveraging the strengths of neither.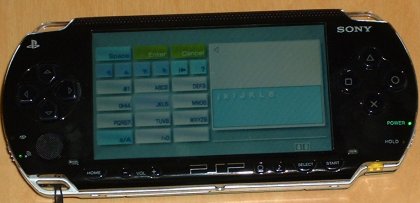 I suspect Sony developed this interface for limited use like entering once off details like Wifi passwords and connection names and then later released the browser deciding it already had 'good enough' text entry. It's a pain to use even for small things like URLs, usernames and passwords - but it is unusable for more substantial text entry for e-mail, forums or blog entries.
There's no details yet on when a keyboard might be available - Logic 3 had announced one, even releasing a product photo, but it was later cancelled. I'm guessing it's because Logic 3 just assumed they could build this but that there may not be a keyboard driver in the PSP firmware.
I can see the strengths and potential of this device and I'm still excited about it but it's a flawed masterpiece. I can use it only to check e-mail not respond to it. I'm waiting for better text entry or a keyboard before I can leave my laptop at home.
Posted by Alexander on March 27, 2006 | PSP Browser - Flawed Masterpiece | Comments (9) | TrackBack
Here's a picture of us at the Question Writer stand at The Education Show in Birmingham earlier this month. You'll see in the picture, we've got the program itself running - at first we were showing teachers the flash quizzes that we made with Question Writer. I thought it would be a good idea to demonstrate a quiz and then explain that our software could be used to make quizzes. This was a mistake!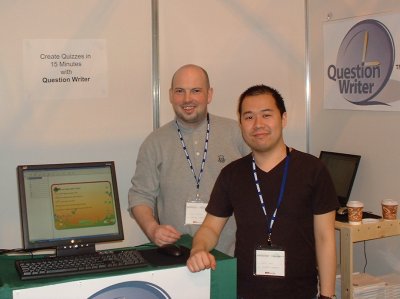 The message was too complicated, and people were leaving with the idea that we were selling educational content. So, instead of showing them how cool our quizzes were, we started to get the teachers to use it themselves. Soon they were kicking asstm. The teachers were all able to create a question in under 60 seconds and they were delighted with their results. They saw a small amount of learning and effort going in, and a professional flash question, with full feedback coming out. Their reaction was to tug at their friend/partners/colleague's sleeve to drag them over and show them what they made.
Posted by Alexander on March 27, 2006 | Teaching Teachers to Kick Ass | Comments (0) | TrackBack
Here's an introduction to 'Web design for the Sony PSP' - not current enough for the development of Flash 6 on the PSP (coming this spring), but there's some that translates. Main points for Flash - full 480x272 screen resolution to use (overlaid, retractable browser controls), document.write support (for Eolas workaround), no support for XMLHttpRequest (so no Ajax I guess).
The PSP also features a pointing device (I'm coming round to the opinion that future mobile device will look more like desktops), but I'd still recommend making your app fully keyboard accessible for best usability on mobile devices.
Posted by Alexander on March 20, 2006 | PSP Flash Development | Comments (5) | TrackBack
We're going to be exhibiting at The Education Show in Birmingham this week (Thursday - Saturday). We'll be at stand E61 - we're going to have a 'Riddler' theme, with a Riddler Quiz, and a prize of a Quiz Edition site licence and an original 1964 Batman Riddler Comic. The comic ain't worth much, but hopefully it'll generate more interest than just another frickin iPod. The comic is on the stand if you want to take a look.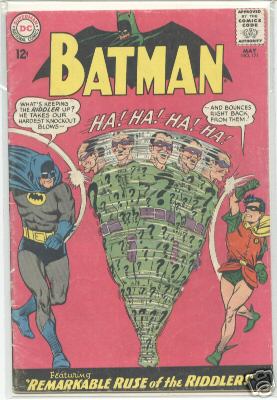 So drop by, take the quiz, say hello to me, David and possibly Przemek.

Posted by Alexander on March 07, 2006 | The Education Show Riddler | Comments (2) | TrackBack
This "Reading the Mind" test was first published in the book, "The Essential Difference", by Simon Baron-Cohen, Professor of Developmental Psychopathology at the University of Cambridge. It lets you see how well you can judge the feelings and thoughts of people by just looking at a photograph of their eyes. Most people are actually pretty good at this, women being slightly better than men.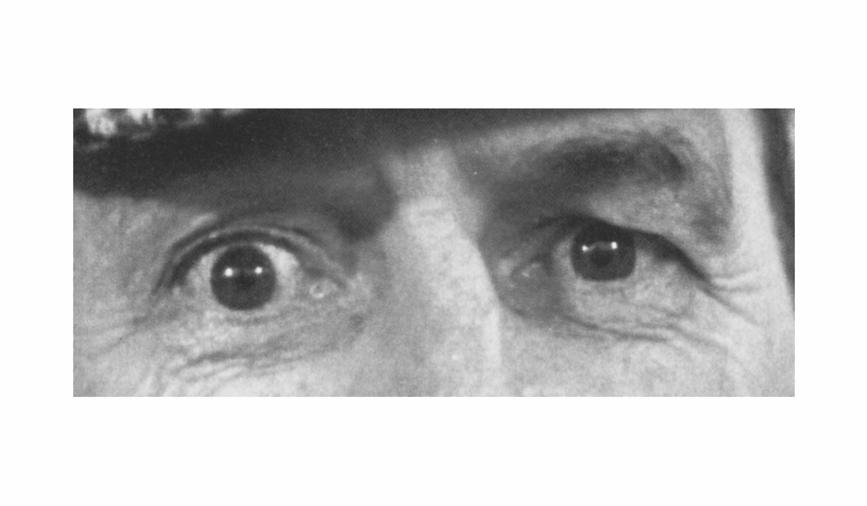 Its clinical use is in helping with the diagnosis of High Functioning Autism and Asperger's Syndrome (which disproportionately affects programmers) but I think it's an interesting test for just about anyone to try. Try the Reading the Mind in the Eyes Test.

Posted by Alexander on March 02, 2006 | Reading the Mind Test | Comments (4) | TrackBack