UK Mobile Broadband
I heard about this over the weekend and it took me by surpise. Mobile network operator "3" now offer the best value and most convenient broadband connection for a substantial segment of the UK market. It's HSDPA and functionally like a precursor to Wi-Max.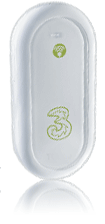 Attach this device to your PC/Mac via a USB port, and it will use the 3 mobile network to offer a (max speed) 2800/384 kbps connection. It's £10 month (18 month contract, 1Gig cap). It's a suitable replacement for both a light home-user, and as a replacement to the patchwork wi-fi network in place across the country for mobile users.
The revolution here is because it doesn't require a landline (£11 p.m. alone) . . . . BT now also require an 12 month contract for any new line connection and an installation charge of £125. That's pretty tough for a student or a short-term renter. You might think TalkTalk would be an alternative . . . but what they don't say is that they can't connect phone lines. So you've got to sign up with BT first. 12 months later, you can become a Talk Talk user.
For anyone who doesn't need a landline - this broadband is very affordable. And it's mobile.

Posted by Alexander at November 12, 2007 10:34 AM
Make Flash tests and assessments with the Question Writer, Quiz Software. Question Writer 4 is now available. Click here to download.
Trackback Pings
TrackBack URL for this entry:
http://www.centralquestion.com/elearning/mt-realtb.cgi/111
Comments
1GB?? You must be joking me - that's pathetic. That's almost what I use in a day.
I really wanted to go with 3 because their speed is supposedly higher than the rest but at the moment T Mobile are the only who offer a 10GB bandwidth a month.
Posted by: Nick at March 25, 2008 08:32 AM