Search Engine Taste Test
I changed my homepage from Google to Microsoft last week. I've been thinking about the Microsoft-Yahoo deal and I wanted to test my contrarian hypothesis that there's not much difference in the quality of search between Google/Microsoft.
I tried http://www.msn.com first - this seems to be the page that Microsoft suggests as a homepage - but it's unusable. There are too many distractions and the seach box actually moves as the page loads in. http://www.live.com is a much better for direct comparison.
I found out that I prefered the interface for Live image search, and that the search results for 'Flash Player' from Live are suspiciously bad. I didn't find out much more. Mostly I was wondering if the results from Google would have been any better without bothering to find out.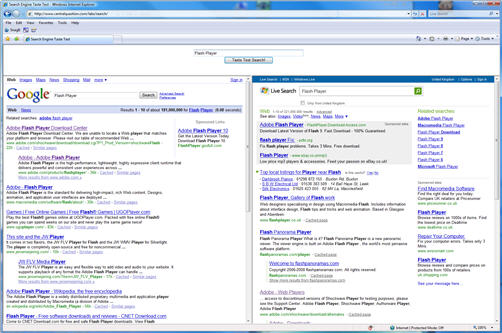 This week I've used my HTML and Javascript skills (circa 1998) to put together a search page that loads up results from both searches side by side. For every search I do for the next week - I'll see both sets of results and get a general idea of which is producing better results for me. You can play along too if your monitor is wide enough!
Posted by Alexander at July 9, 2008 03:33 PM
Make Flash tests and assessments with the Question Writer, Quiz Software. Question Writer 4 is now available. Click here to download.
Trackback Pings
TrackBack URL for this entry:
http://www.centralquestion.com/elearning/mt-realtb.cgi/116