ADL SCORM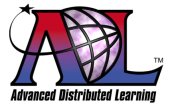 You may need your assessment to be a SCORM compliant learning object. SCORM ensures your assessment's compatibility with VLEs and LMSs. From the SCORM overview - "The SCORM is a collection of specifications adapted from multiple sources to provide a comprehensive suite of e-learning capabilities that enable interoperability, accessibility and reusability of Web-based learning content." SCORM is heavy in documentation.
SCORM entails packing up learning material into a self contained 'learning object'. This 'learning object' is structured according to well laid out rules. That means that it can be distributed to schools and universities who may all have different IT infrastructure, but if they are SCORM compliant, they will all be able to import your material.

SCORM also provides a method for your material to communicate with the school or university's student tracking system. In the case of an assessment or test, you'll be able to send back the score or grade achieved by the student.
Achieving SCORM compliance can be a great benefit but the documentation can be quite daunting. Our automated software can publish your assessment as a SCORM compliant package.

A SCORM sample package is available for download.